Window treatments are a key design element in any space, and their role is as essential for functionality as it is for aesthetics. Sure, window treatments help control light, keep in warmth, and ensure privacy. But they also can give a room presence, and set the mood from breezy and casual, to bold and glamorous. As such, consider window treatments from the start of your redesign–to ensure that they elevate the look of your space.
Take them higher! Drapes, Roman shades, and cornices–every room looks larger and taller if the window treatment is hung as close to the crown molding or ceiling as possible. Leave an inch, for easy access at the top, but no more.
Inside or Outside Mount? The benefits of mounting a shade or blinds inside window casings are better light control as the treatment is right against the window and a streamlined appearance. Alternatively, an outside mount allows us to take the window treatment higher making the ceiling appear to be taller.
Like with pastry, layers are better! Whether it's sheer curtains with a layer of silk drapes, or a woven shade with a cornice, to name just a few, tiered window treatments will add to the sophistication of your design, and often enhance functionality.
Window treatments need to play well with others. The type of treatment and fabric that you select should pair well with the other design elements in your space. Casual natural woven shades can be dressed up with silk drapes to create an elegant dining room, or their casual vibe can be enhanced with linen curtains in an airy living room.
Trim is like frosting on a cake! A simple ribbon or a fabulous fringe can take any window treatment from ordinary to extraordinary.
You needn't go to great lengths. Curtains and drapes that sit right at the floor have a sleek and streamlined look, while if you favor puddling fabric on the floor, keep your "puddles" between 3-4" to balance well-being with a dose of glam.
---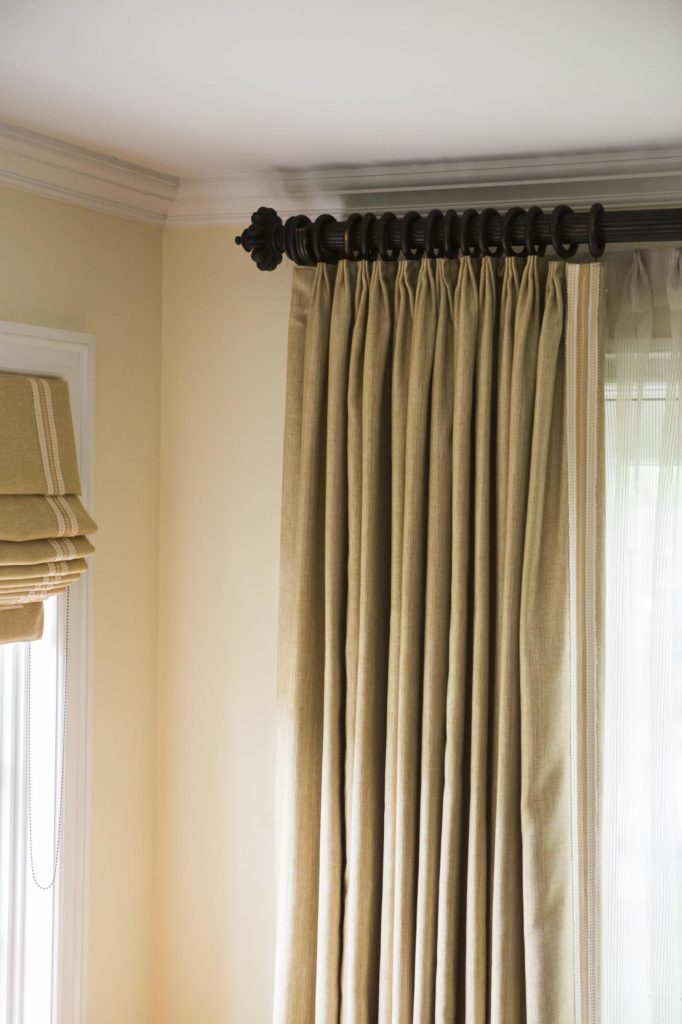 Make sure that your window treatments are right for your windows and the room. Custom window treatments can enhance any room and make up for a sea of architectural shortcomings. Please be in touch at 917.363.9198.